Over the years, all over the world, the stock photographer who travels in group events will sometimes hear others whisper to each other in a somewhat hushed guilty fashion: "When in doubt, just throw in a tablet." It took me a while to get on that train, but yes, often they do sell. And let's face it, tablets and mobile phones are everywhere. So in the Summer of 2012, I got my own tablet just for a shoot idea. I didn't feel the need for one and frankly thought these things were just a fad. Even today I'm not so sure that they'll be around for much longer. Trust that industry to come up with something new every two years.
A few weeks ago, I decided to make a few new galleries on IStock featuring my work around certain subjects. Over the years I have uploaded hundreds of images featuring people using phones and tablets in a wide array of different setting and situations. Here is the link the lightbox:
And, of course, here are a few personal favorites from this collection:
This was shot while my friends Lorraine and Adrian joined me for the 2013 London Istockalypse. At this event, we were introduced to the paparazzi style of shooting: the same scene is shot by 20 other photographers at the same time. This format doesn't really agree with my rather soft voice and frequent use of long lenses. To the organizers' credit, they refined this type of shoot later on by limiting the number of photographers shooting at once to a handful, which made them great fun, and more profitable, the next year in Hong Kong and Istanbul. But back in London that year, on the way to the afternoon shoot, we just started photographing each other in transit, which was exciting as it filled a need of transit images in my portfolio and had known some success with a similarly themed shot I had set up in Montreal in 2012. So here is Lorraine with Adrian's tablet on a bus. I got very lucky with the light and the scene – it's so tricky to get everything together for a nice shot when things are moving and you never can tell what the background will be like… but it worked here and became my best selling image from this event. We never found the afternoon group shoot and spent an awesome day visiting the Shoreditch area instead.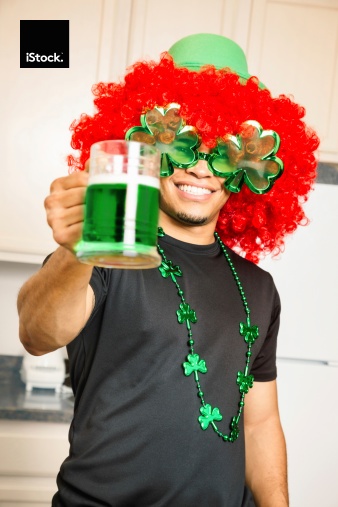 This one was shot during the City Beautiful 4 event in Orlando, Florida in early 2014. Thanks to the great work of my friend Evelyn, we had access to a resort, tons of festive props and great models of all ages and ethnicity. On this particular segment, I worked with a seven fantastic African American models pretending to be a three generations family. After working for a while around the gifts and Christmas tree, I sat down the "mother" with two of the kids to interact with my fabulously dead tablet (it stopped working barely a year after I got it). They did a wonderful job of pretending it was in working condition. Love the acting here.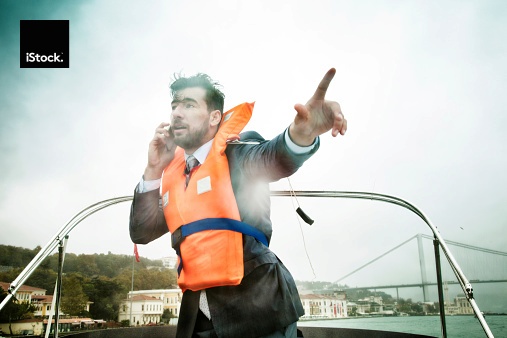 A brand new image from the Istanbul Istockalypse shot last Fall. So sometimes the weather goes all wrong. This was part of a pitch shoot sponsored by Getty Images, arranged by Lorraine, where we were to shoot beautiful models having a great time on a yacht cruising the Bosphorus with the amazing sights of the city as a background. Of course, for most of the day we were shooting, the weather was freezing, it was raining hard and the wind was frightening. Amidst some seasick photographers and models, I took this suited heartthrob aside, put a life vest on him and turned the shoot concept around, feeling something might be done around a manager trying to save his sinking business. Here he is trying to shout directions into his phone and pointing to a solution. Kudos to Demir who was cold and soaked, and still acted convincingly. And well yes, I was cold and soaked too and so was my camera, the lens covered in water as you can see in this shot. So real! Thanks Canon for making weather resistant body and lenses!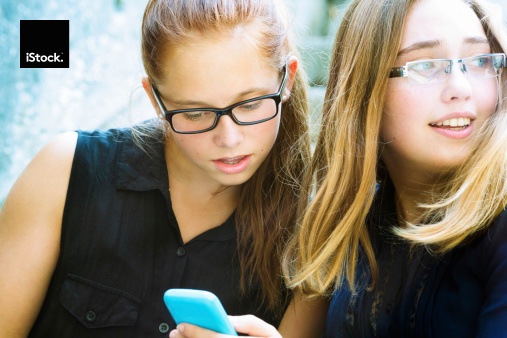 During the Summer of 2013, my friend Martine Doucet and I produced a shoot in the area near Sutton, Quebec, where I lived at the time, featuring two teenaged girls. The first scene was around a high school, and, as she was shooting, I looked around for suitable locations. I found a stairways and immediately remembered how me and my friends used to sort of hide in stairways to play games, gossip and talk of personal subjects. So I sat the girls down and ask them to incorporate the phone into this. They did a spot on job and I love the gleeful tension in this one. "Quick! have a look at this!"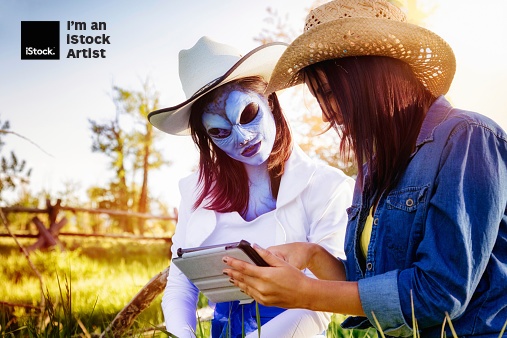 And a last one, on the funny side. What would a decent young American woman do if she were faced with a friendly alien? Well, of course, act like the kids in E.T., dress her up in her clothes and show her how to use a tablet. Isn't that obvious? This was shot during the Summer 2013 Montana Aliens Stampede event, where we were faced with surprise after surprise and the challenges that come with having to come up with salable stories with out-of-the box situations, and no real preparation. Talk about thinking fast! I also shot the opposite exchange where the alien shows the cowgirl how to create energy out of thin air.