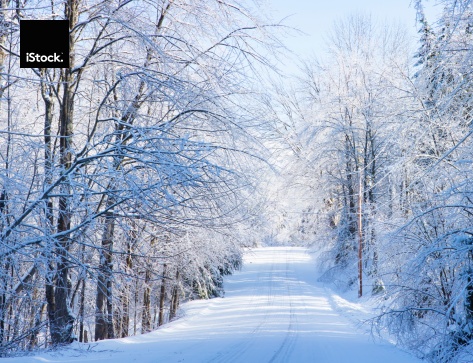 It was Christmas day, a year ago. I was at that moment still living in Sutton and we just had 2 full days of non-stop ice storms. Trees were heavy and as you stepped out into the woods, you would hear the rather scary sound of trees breaking under the pressure. Branches fell every ten seconds or so and of course we were out of electricity for a couple of days.
On that morning, the sun vanquished the storm and the sky cleared, leaving the surrounding area a magical landscape of ice and snow glittering in the sunlight. I took the car and went for a drive. I shot for several hours around the village and drove back only to slide into a ditch. I walked back home – I had a dinner to cook. The next day I had my father, who was over for the Holiday, walk back with me to the car to set up an accident shoot before the car was pulled out of the ditch. When opportunity knocks…
The resulting images were pleasingly successful. This one just sold an extended license this morning (many thanks to whoever chose it). It was shot on the road leading to the house I was living in. I'm very glad that despite all the cooking I had to do that day, I took the time to go on that little photo trip… not knowing that this was the last winter I would spend in that area, and most probably the last ice storm I would see there.
You can view more Winter images in this Istock stock photography gallery.